Northwind Soft proudly presents: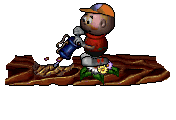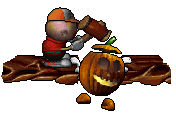 Visitors since 10. April 1997
Imagine yourself in an unexplored dream land surrounded by funny monsters blocking your way through out various parts of the kingdom, limited only by the borders of fantasy.
Visit the long lost world of a game play too often overlooked.

Visit the world of a perfectly normal little boy's imagination.

Visit the world of Drilling Billy.
This game is based on a very simple recipe: We just put together a game which we ourselves would love to play. That way we're certain that you will too.
Looking over the range of today's game concepts mostly being overblown strategy games something was missing. Now, we suddenly find ourselves with a good old fashioned like platform game completed with the best visual and audible standards offered by the present technology.
It's all taking place in a cute environment made with an impressive screen resolution making the 3D-animated characters, the level design and an inevitable wide range of fancy power-ups even more exotic.
That's more or less the story of Drilling Billy. Reexperience the old arcade-rush with today's standards on your personal home computer.
Drilling Billy features:
| | |
| --- | --- |
| | A non violent gameplay (age 5+) |
| | More than 100 levels in 5 different worlds |
| | Loads of secrets, bonuses, powerups and more |
| | High resolution graphics (800x600), for maximum graphic detail |
| | 3D animated characters and powerups |
| | High quality sound effects and Red Book music (CDDA) |
---
Want to know more about Northwind Soft and Drilling Billy ?
Are you stuck in the game ?
Or are you simply curious on what we are planning for the future.


Click here.
---
System requirements:
Minimum
Recommended

IBM or 100% compatible
486DX2/66
8 MB ram
4 x CD-Rom drive
5 MB harddrive space
VESA 2.0 compatible video card

IBM or 100% compatible
Pentium 90 or higher
16 MB ram
6 x CD-Rom drive
20 MB harddrive space
VESA 2.0 compatible video card
Sound Blaster compatible sound card
OS/2 beta demo available!
---
---